Reading time: 3 minutes
With over 400,000 holiday homes registered in Italy on Airbnb alone, between luxury villas and castles, B&Bs and 'agriturismi', apartments or chalets, holiday makers are spoilt for choice, location and budget.
Guests however need to become savvy and knowledgable to avoid the pitfalls by renting properties which are unsafe and not complying to health and safety norms and policies.
WITH GREAT CHOICE COMES GREAT RESPONSIBILITY
It is increasingly important as a homeowner to act professionally and according to the law to provide your Guests with the best possible and memorable guest experience that involves your safety and that of your loved ones.
That's why Le Torri di Bagnara Castles have heavily invested to provide its Guests with a holiday villa which offers the standards of upmarket hotels with the comfort, privacy and independence of a real home.
 WHAT IS A LICENSED HOLIDAY HOME?
Castles on Le Torri di Bagnara estate have a hotel license ("Luxury Agriturismo")  issued by the Italian Government, so are entitled by law to operate as a vacation rental accommodation and to host paying guests.
Peace of mind – why risk renting an unlicensed holiday home?
90% of the properties in the Italian home vacation market are unlicensed, which means they are simply private homes built solely for private use and not built as holiday rentals for paying Guests. As such, these private homes were not built with the correct and adeguate health and safety measures and standards required by law for a fully licensed property.
VILLA WITH A LICENSE: YOU AND YOUR LOVED ONES ARE SAFE
The license guarantees its Guests a superior degree of standards which include health and safety procedures and systems inside and outside the house, staff training, and adherence to the fiscal policies.
This means that the whole Le Torri di Bagnara Castles, the properties and the swimming pool are authorized by law to host paying Guests. All systems at Le Torri di Bagnara Castles (electricity, heating, hot water, air conditioning, kitchen, swimming pool and its equipments,…) were installed in a way to comply with legal standards and are subject to stringent regular inspections and maintenance.
For example, do you know that if swimming pools are deeper than 148cm, the law imposes to hire a lifeguard? Or that kitchens and pantries must be equipped with baits for insects?
Moreover, a Civil Liability Insurance is requested by the Italian Law to protect Guests from possible injuries and damages. All the staff working at Le Torri di Bagnara is legally employed and has to attend training courses imposed by law (health & safety, first aid, compliance to the food hygiene ratings,…).
More information about how the villa complies to the regulations can be read here.
Le Torri di Bagnara is proud to offer a fully licensed villa which meets the approval and legal ratings imposed by the Authorities.
Being a licensed operation means that the Owner is entitled by law to offer additional staff and services to enhance the experience of its Guests, from providing them with a chef service to private transfers to daily maid or a butler, from tailor-made programs to grocery delivery. Unlicensed homes are forbidden to offer additional services.
THE IMPORTANCE OF OFFERING A WARM AND LOVING HOME WITH A PROFESSIONAL, DISCREET AND UNOBTRUSIVE SERVICE
Owning or managing a holiday home should not be a hobby, a second job or an additional source of income. Owners should treat their holiday homes as a vocation providing Guests with a warm and loving home and an attentive service.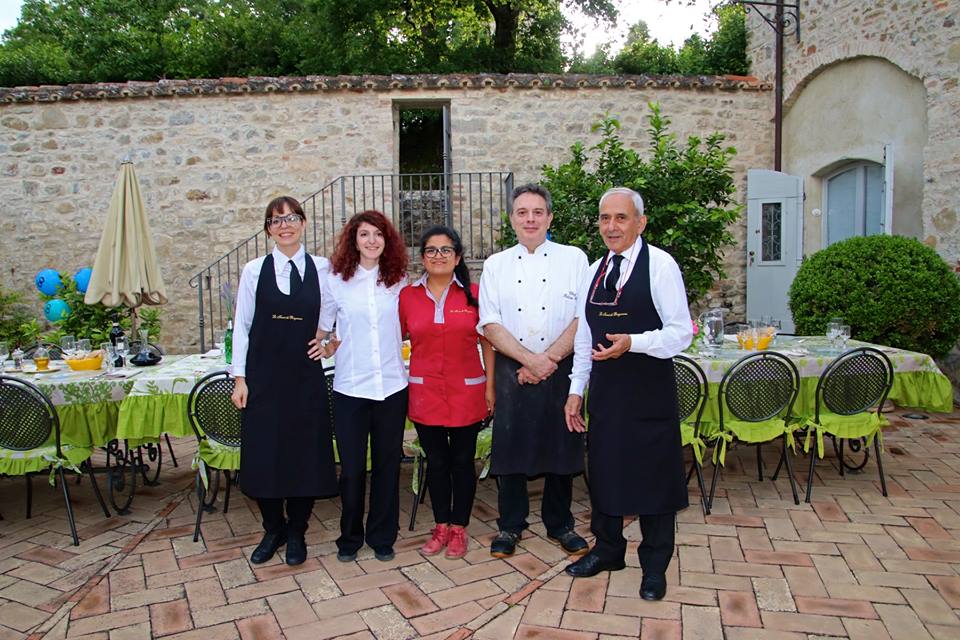 Le Torri di Bagnara Castles are managed, staffed and maintained directly by its Owner; and  a professionally trained, empathetic, caring and discreet staff will pamper you from your arrival to the end of your stay, taking care of you in a unobtrusive way,  always respecting your programs and needs. No one will wake you up in the morning to clean your bedroom or will impose you a breakfast time; YOU will daily decide your preferred time for breakfast, lunch or dinner,  and cleanings will take place when you have already gone out and around, while our Guests assistant will remain at your full disposal at our property offices and would come at the villa only if requested by you.
It is possible to offer a professional service whilst maintaining a personal and warm touch. Unlike hotels and unlicensed private houses, a luxury holiday home like Le Torri di Bagnara Castles is able to cater to the most discriminating travelers – those who require the amenities of a luxury hotel but prefer the privacy, comfort and independence of a real home, whilst offering them a taste of the local culture and hospitality.
COME AND ENJOY ITALY WITH YOUR FAMILY AND FRIENDS TO THE FULLEST!
Le Torri di Bagnara Castles Owners and their staff will be humbled and honored to have you as their Guests. Staying at Le Torri di Bagnara Castles means a stress-free, worry-free, and experiential holiday.
So what are you waiting for? Book your exclusive castle-villa vacation with us today!
BOOK NOW