Our easy to make recipe to prepare this typical Umbrian sweets, in celebration of Carnival despite Covid-19.
Treat yourself to a typical Italian Carnival sweet – "Struffoli Perugini" – with an easy to make recipe of the Umbrian tradition, in celebration of Carnival despite Covid-19.
Carnival is celebrated on a different date each year depending on when Easter Sunday falls. Easter is celebrated on the Sunday after the first spring full moon and this year this will take place on Sunday April 4th. Counting back 6 weeks, this will determine when Carnival celebrations should start, meaning between February 11th and 20th 2021.
Who among us will know for sure how we will celebrate Carnival this year? We are living in unprecedented times and the pandemic is changing the essence and the connotations of antique traditions leading to a substantial rethinking of events to adapt them to the measures to be respected for the contrast and containment of the spread of Covid-19.
There is no reason why we cannot still celebrate Carnival at home with our family and there is nothing better than eating "Struffoli Perugini", one the best known and appreciated sweets in Umbria, a classic timeless recipe which will shortly put on a good show on every Umbrian table.  
I am proud of sharing with you my family's traditional recipe, which have been passed down from generation to generation. An easy and quick recipe using just a few simple ingredients but visually rewarding and satisfying to the taste.
Bon appetit! May "Struffoli Perugini" be a beautiful reminder of the wonderful things in life we still have. 
With Love,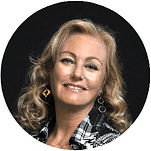 ---