THE PRIORITY AT OUR PROPERTY IS THE VIEW
---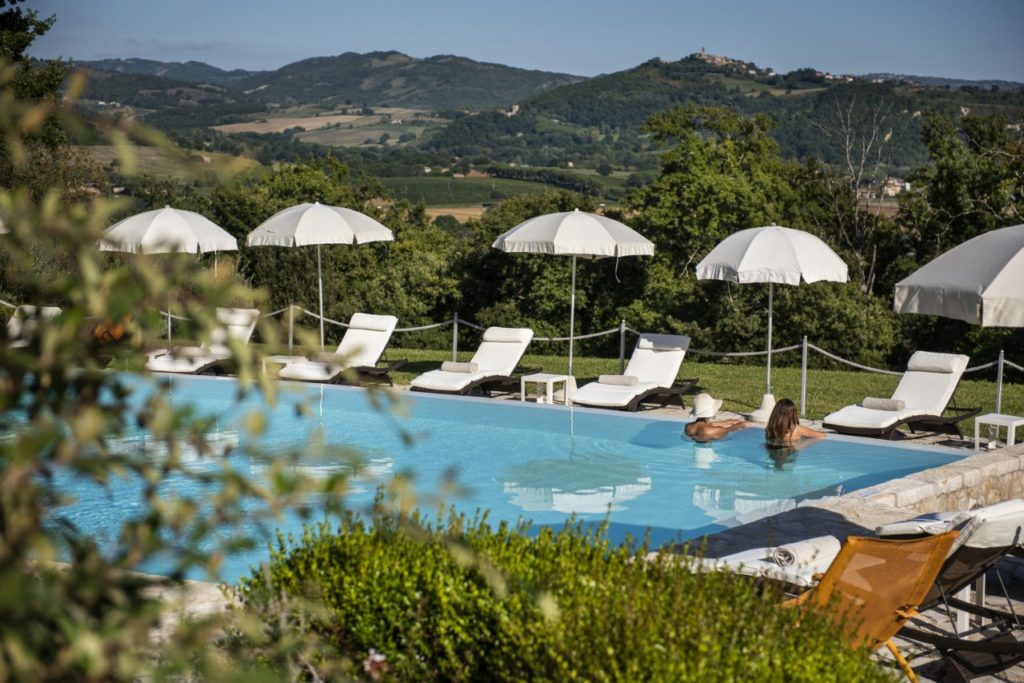 Get enchanted by the breathtaking beauty
of the Upper Tiber Valley!
The beautiful Upper Tiber valley unravels beneath the Pieve San Quirico castle infinity pool, nestled in landscaped gardens of rosemary, lavender, olive and pomegranate trees.
The pool features saltwater. Thanks to its position, it is sunny from dawn to dusk and offers spectacular views of the valley, surrounding hills and south over mount Subasio and Assisi on its foot.
Pool is in white stone and is in the centre of a large manicured garden (5.000 sqm), designed by the famous Tuscan landscape designer Alberto Margheriti. Gardens are embroidered by flowers (roses, santoline, perovskia, and thyme), pomegranate and cherry trees, with cratecus, laurel, rosemary and lavender bushes, oak and olive trees, and are continuously in flower from Spring to Autumn. At the base of each olive tree there are lamps that can be lit to create a fabulous atmosphere for parties or other events.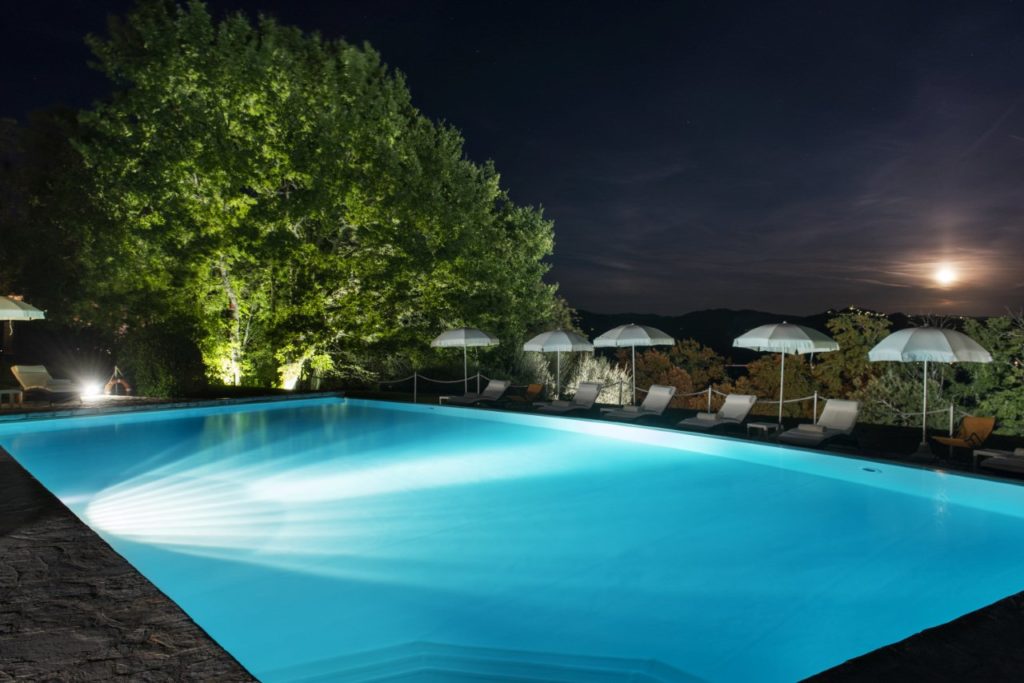 There are also a David Austin rose garden with beautiful "Assisi" roses, bearing medium-sized flowers of very pure rose pink, a Botanical garden with aromatic plants and a small vegetable garden with vegetables to pick up and enjoy.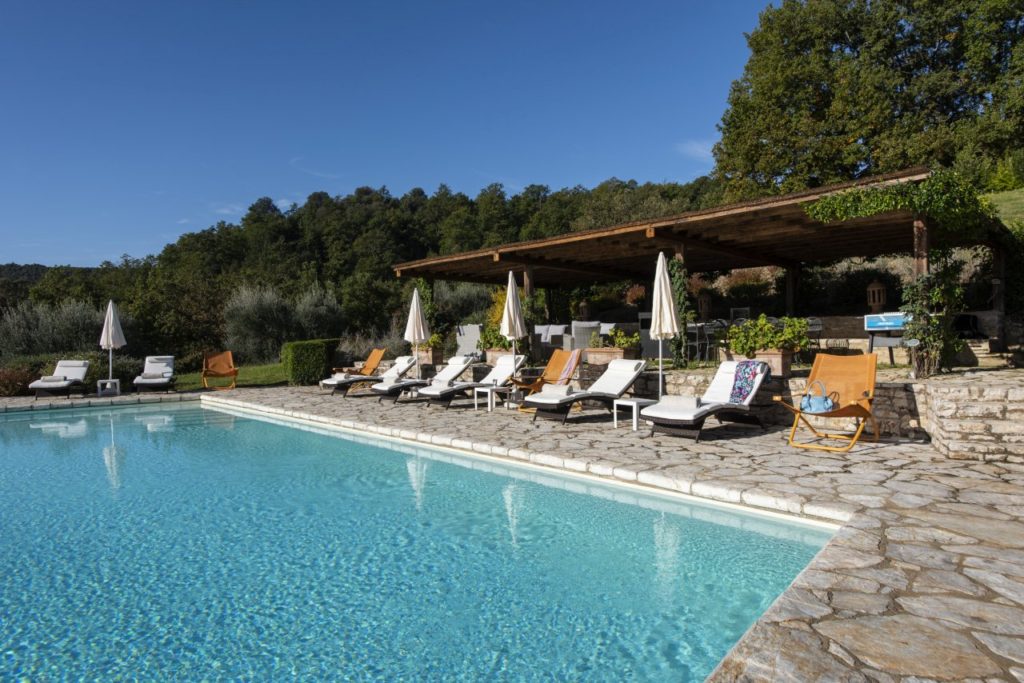 Guests, have at their disposal deckchairs, sunbeds, bath-towels, shower, and telephone. A large wooden Pergola, surrounded by jasmines and David Austin roses, provides shade and is perfect to relax and having meals. It features outdoor furniture, lighting and a fridge, to keep drinks cool, with a storage cupboard for glasses, etc..
Pool is open from  mid-May to the last Saturday of September..
110 sqm wideness, 148 cm depth; length west side 13 metres;
length east side 15,60 metres; width: 7,5 metres.
NO DIVING – POOL HAS NO SAFETY FENCE AROUND, NOR SWIMMING GUARD.
---
WE MAKE YOUR POOL SAFETY OUR PRIORITY!
Since the property has a License, our swimming pool has all the security features and devices requested by Law:
-it is  148 cm deep and there are no skimmers, so the Law does not require a lifeguard; moreover, life preserver rings and a pole for assistance are placed adjacent to the pool;
-there is an outdoor shower and a foot washer is placed at the entrance of the pool area to avoid hygienic risks;
-there is a 1,5 metre travetine paved area around the pool to prevent from slipering;
-a water bacteriological analysis, carried out by an accredited laboratory,  is done before re-opening the pool and in mid-season, so as to grant its utmost quality;
-a pool supervisor is appointed: he tests the water twice per day and adjusts PH levels (early in the morning and after sunset so to respect your privacy), keeps a daily journal where tests, cleaning, inspections, the products put in the water and used to clean the area around it are recorded. The latter must comply with law standards.
***In Italy 90% of the villas to rent –  even the most luxurious and expensive ones –  are unlicensed.  They are merely private houses rented out to travelers.  This means that they are not subject to the same superior degree of safety and security standards requested by Law to a licensed property. They have merely private pools where the presence of safety devices is not granted.
So, before booking a private unlicensed villa, ask if the pool has any security characteristic and device, who does the daily water test, if the water bacteriological analysis has been made, ecc..
VIEW PHOTOGALLERY