ENJOY OUR FUN AND RELAXING ACTIVITIES!
Take cooking lessons
If you love Italian food, a cooking class will enable you to take home the tastes and flavors of Italy.
Our hands-on cooking class is based around the best local ingredients in season and includes making antipasto, primo, secondo and dolce followed by a dinner (eating what you and the chef just made, of course !). Lessons are held by a professional Chef with English translation.
The class starts with a glass of wine and – if the weather allows – a walk in our herb garden and in our vegetable garden. Then we will put on aprons and assemble around our large table. We will then begin making gnocchi, tagliatelle, or lasagne and their wonderful sauces. Spring might bring inspiration for a risotto or vegetable soup and summer for an eggplant parmigiana or for panzanella, a delicious bread salad made with the sweetest summer tomatoes. Our chef will also try to accommodate special requests for those with dietary restrictions, e.g. vegetarians.
At the end of the class, you can enjoy your meal outdoors in our castle beautiful inner courtyard (weather permitting) or in our beautiful jasmine covered panoramic veranda dining room.
Enjoy special SPA treatments
Facials and full-body special spa treatments with the extra virgin olive oil and the honey from our farm; Watsu in the pool; manicure and pedicure. All available in the comfort of your villa.

Go Biking and hiking
For walkers and bikers, the Bagnara 1500-acre estate provide several walking and biking paths with picnic areas. They go for miles over the valley along the river Tiber and uphill crossing the PGI olive grove and the chestnut woods, passing by the small lakes, the row-deer breeding and the medieval castles. Mountain bikes for adults and children are available for free at the villas. If cycling is one of your passions, then you'll find the terrain and scenery in Umbria are simply unmatched. From flats to rolling hills to steep climbs, Umbria has it all. Combine the sightseeing of nature with the sightseeing of quiet medieval towns. As you bike through fabled towns and palaces of centuries past, this region promises an unforgettable taste of Italy.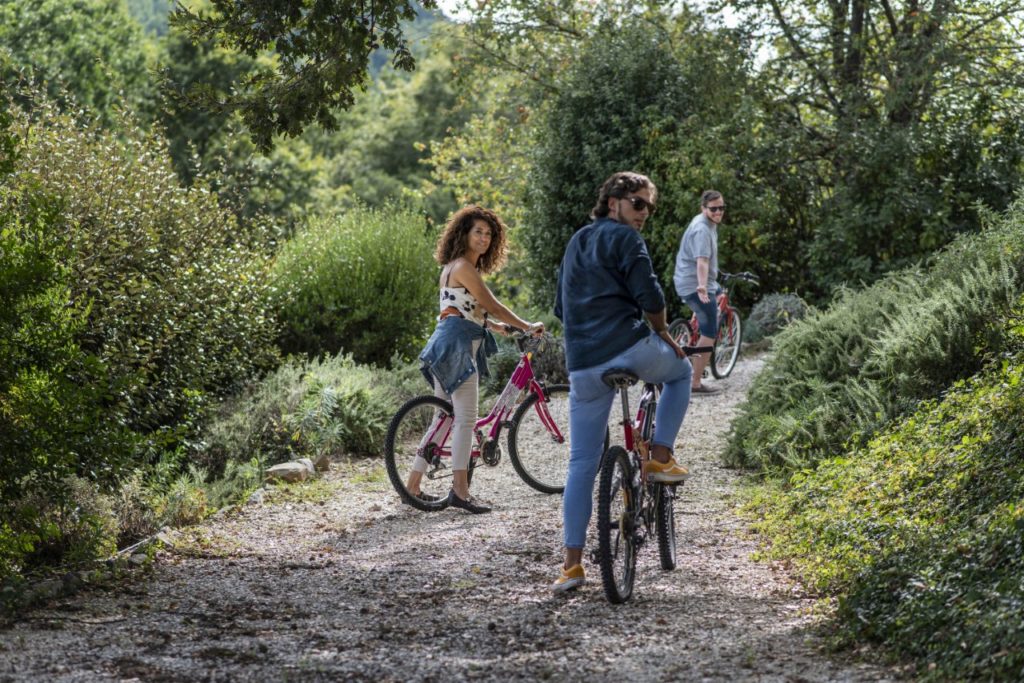 Go for a real Truffle Hunting Experience
Treat yourself to an unforgettable day with truffle hunting in Umbria, across the beautiful 1,500-acre Bagnara Estate. Enjoy a relaxing, enjoyable, and absolutely unique morning  with a local hunter and his expert dog. The Bagnara Estate's  forests, made up of beech and oak trees, are rich in the famous Umbrian black truffles of both the winter and summer varieties. There are amazing views to be had in every direction as you stroll the countryside.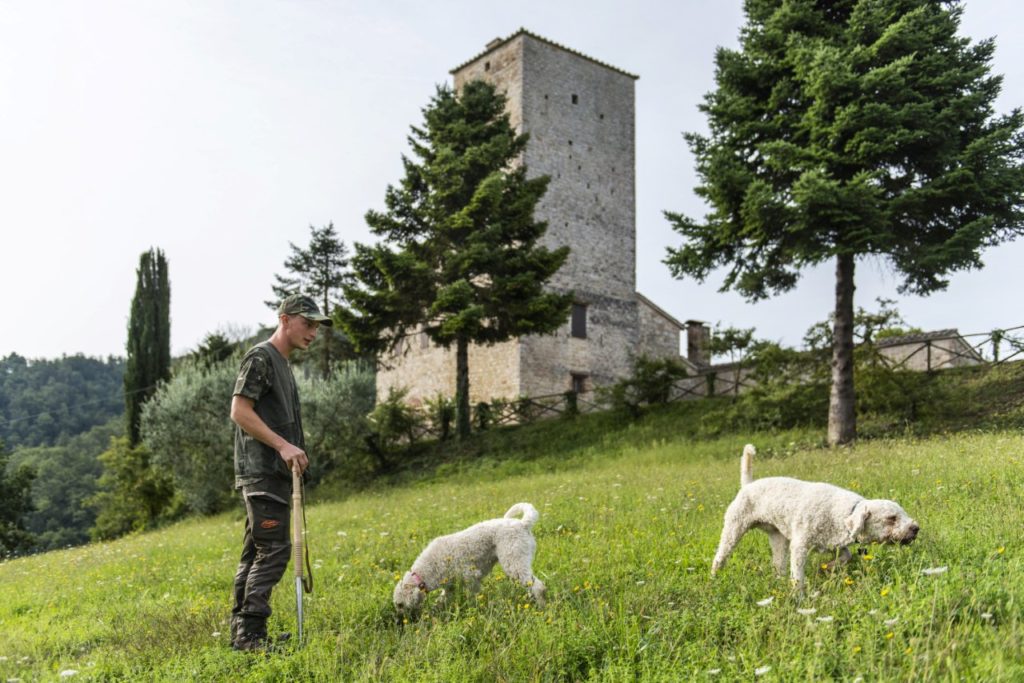 You will have a real Truffle Hunting adventure, following our expert truffle hunter and his highly trained dog,  walking through the beautiful rolling hills and valleys of our farm-estate and enjoying  amazing views  in every direction as you stroll the countryside.  When we have enough truffles for lunch, we stop in a really panoramic spot and have your first taste of a freshly dug truffle and a glass or two of Prosecco. Following the hunt,  back at your Villa Castle and experience  the real taste of 4 different kinds of truffle and enjoy the savory truffle delicacies of a local truffle Farm paired with the best Umbrian wines.
Kiss in the most romantic locations of the Estate
The 1500-acre estate features many romantic locations that are "good kiss spot". Scenic spots, under big trees, on bridges over the Tiber river , on the small lakes shore, and even under the towers of the estate's medieval castles. Every guest can choose and mark his own "best kiss spot".
Take private Yoga lessons and do Meditation
Enjoy relaxing Yoga sessions in the comfort of your villa or do Meditation in the most enchanting areas of our 1500-acre estate: you may choose among quite and peaceful panoramic spots, secluded areas immersed in nature and the relaxing riverside of  the Tiber.
Visit the working farm and berry picking
Days can be spent visiting the working farm and the animal breeding, truffle and mushroom hunting or foraging for other delicacies such as wild asparagus.
Take a Hot Air Baloon Ride
Enjoy an enchanting  balloon ride on Italy's biggest Hot Air Balloon piloted by one of the world's most experienced pilots who has over 3600 flights under his belt. The basket can accommodate from 8 up to 18 passengers, so there is plenty of space for your family and friends to admire the view as you fly over the green hills of the Umbrian countryside dotted with beautiful medieval cities and villages. After your approximately one-hour Hot Air Balloon Ride, enjoy a smooth touchdown and step back onto "terra firma". The fun continues when we take you back to your castle to enjoy a great Umbrian style breakfast and a wine tasting of the best Umbrian wines.
Go shopping with your Personal Shopper
A Personal Shopping Service is also available at Le Torri di Bagnara: your Personal Shopper will take you to the finest shops, outlets, majolica workshops, textiles firms, antique and restoration shops, and the best restaurants and trattorie, wineries and breweries of the whole region. We have designed a range of shopping itineraries for our guests however you have the option of requesting a more personalized tour in accordance with your needs.
Tie the Knot
A professional complete Wedding Planning and Co-ordination Service is available at Le Torri di Bagnara. Please visit our "Weddings & Events" section.